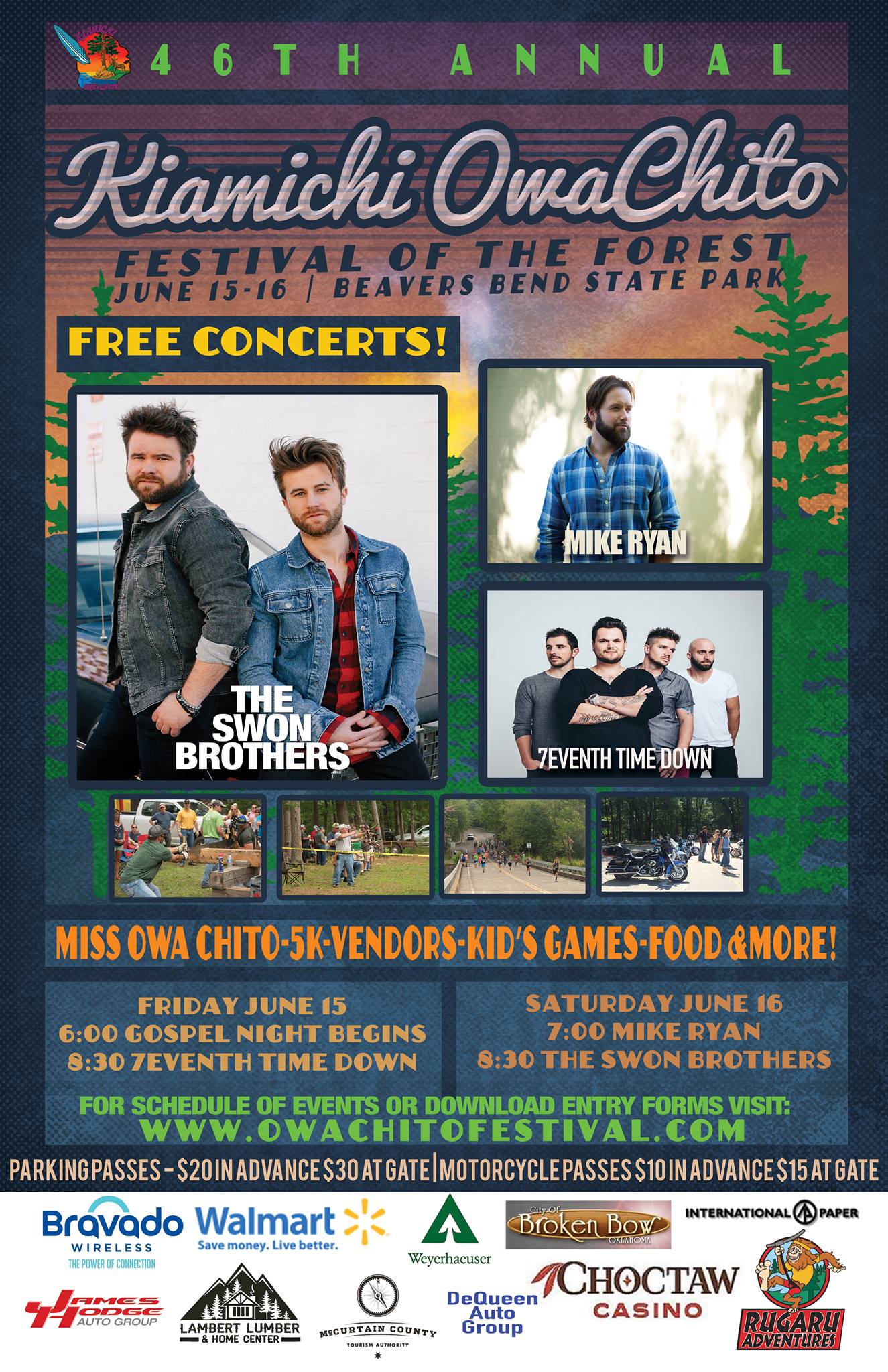 OwaChito Festival of the Forest
Hello friends! We're excited to share with you today a SUPER exciting event coming to the Hochatown / Broken Bow Area in a few weeks! How many of you have heard of the OwaChito Festival of the Forest? If you're a local OR just so happen to be #livingthehochalife around this time of year – then you've probably popped in on the event! There is tons of entertainment, delicious food, fun things for the kids to do + contests. This is definitely an event that is fun for the whole family! This event takes place on the 3rd weekend in June every year. This year it will fall on June 15th + 16th! Make your plans, pack your bags + come live the HochaLife at the OwaChito Festival of the Forest! Below is a list of activities and entertainment that will take place during the event!
CONCERTS
Friday, June 15th 2018
7eventh Time Down is the Christian Friday night headliner. Entertainment will start at 6pm, and 7eventh Time Down will rock the stage at 8pm! You can check out their music HERE.
Other entertainment includes: Valliant 1st Assembly of God Praise + Worship Team, Philicia Austin, Victory Life Youth of Broken Bow, Faith Tabernacle P.C.G Youth, and Veronica Tuttle.
Saturday, June 16th 2018
Mike Ryan will take the stage at 7:00pm! Some of his hits include "New Hometown" and "Dancing All Around It". You can find his music on iTunes + Spotify. Click HERE to check out his music!
The Swon Brothers – Festival Headliner
They will take the stage at 8:30pm after an awesome show by Mike Ryan! You may have heard their hits on your local radio station, iTunes or Spotify! Some of them include "Later On" and "Don't Call Me". Click HERE to check out their music!
Forestry Events
A large part of this festival is for people all over Oklahoma, Texas, Arkansas + wherever you may come from, to get acquainted with the culture, history, and beauty of nature around the Hochatown / Broken Bow area. There are tons of events to watch, and participate in if your interested in them! Trust us, you don't want to miss this! You can find forms to sign up HERE.
Below is a list of the events:
Choker Setting
Ax Throw
Log Rolling
Knuckle Boom
Double-Buck Crosscut
Jack 'N Jill Crosscut
Limited Power Saw Bucking
Log Loading Binding
Match Splitting
Men's Bow Sawing
Women's Bow Sawing
Bull of the Woods
Crew of the Woods
JR & SR Kids Bull of the Woods
Bike Show
There is a bike show at the festival that is on June 16th at 11:00am! This includes: people's choice, rack'm off, most unique bank, rat bike + longest ride! If you're a lover of motorcycles, make sure you set an alarm so you don't miss this event!
Other Events
I bet you're thinking this is a festival you don't want to miss.. well you'd be right! This festival is held every single year, and this one makes it the 46th Annual! The entertainment, events, and food get better + better every year. Below is a list of other events you might be interested in watching OR participating in!
5K
Miss OwaChito
Miss Choctaw OwaChito
Canoe Races
Archery
Casting Contest
Children's Games
Spelling Bee
Bingo
Stickball
Horseshoe Content
Talent Show
For more information on the festival – please check out the following links:
Facebook Page, Facebook Event, and Website.
You can find all the forms for participating on the website link above. You will need a parking pass for Saturday! Make sure to check out their Facebook Page for photos/videos of past events, and RSVP to the event if you're planning to go!
Make sure to tag us in your #hochalife adventures!
For other upcoming events in the Hochatown / Broken Bow area, CLICK HERE.